Skip to Content
Targeted Belly Fat and Love Handle Fat Removal with CoolSculpting
Berkshire County's Most Experienced CoolSculpting Provider
Schedule Your FREE CoolSculpting Consultation!
You may be working hard at your balanced diet and regular exercise—and seeing the results! But sometimes, certain areas of excess fat and loose skin just don't disappear, and Healthy Image is here to help. We're your partner in the removal of belly fat other excess fat because we know each person has different parts of his or her body that drag down self-esteem despite the hard work at the gym. Thanks to the innovative, nonsurgical approach we use through CoolSculpting®, our team can help melt that last bit of fat around your waistline for a trim, new shape that makes you love your own skin again.
To schedule an appointment in Williamstown, please call our CoolSculpting spa at (413) 458-6294.
What is CoolSculpting®?
PROVEN SCIENCE AND REAL RESULTS
CoolSculpting® is an FDA-approved process to freeze and crystallize fat cells in a process called cryolipolysis. Because fat cells freeze at a lower temperature than other tissue in your body, CoolSculpting® uses cold pulses at this precise fat-freezing temperature to target unwanted fat areas not solved by diet or exercise. After the treatment, the frozen cells will die off and be flushed by the body over the course of a few months, so while the results are not instant, you'll be able to watch the fat melt away without changing your daily routine.
Most patients see a 20%-30% reduction in fat in the treated are with CoolSculpting®*.
Bulges around the waistline are not exclusive to a single gender. We help both men and women reduce the fat in their stomach and love handles. This treatment is effective at reducing subcutaneous fat (the fat cells just beneath the surface). The best candidates for CoolSculpting have soft, "pinchable" fat on the sides or center of their abdomen.
Learn everything you wanted to know about CoolSculpting® at Healthy Image by reading our complete CoolSculpting® FAQ page.
Nonsurgical Fat Removal from the Stomach and Love Handles
CoolSculpting® is the nonsurgical way to tighten, tone, and banish love handles or belly fat, making it safer and more attractive to our clients. Instead of invasive liposuction, CoolSculpting® is painless and requires no recovery time at home or in a hospital. You'll be able to walk right back out the door of our spa and watch the results fully emerge in the weeks and months following your treatment.
The abdomen (stomach) and flanks (love handles) are two of the most popular areas for CoolSculpting. Even with regular exercise and a healthy diet, many people still have stubborn pockets of fat around their waistline. The number of fat cells is set during childhood and adolescence and varies little during adulthood. CoolSculpting can help reduce the stubborn pockets of fat that diet and exercise don't reduce by freezing your fat cells and allowing your body to eliminate them over time.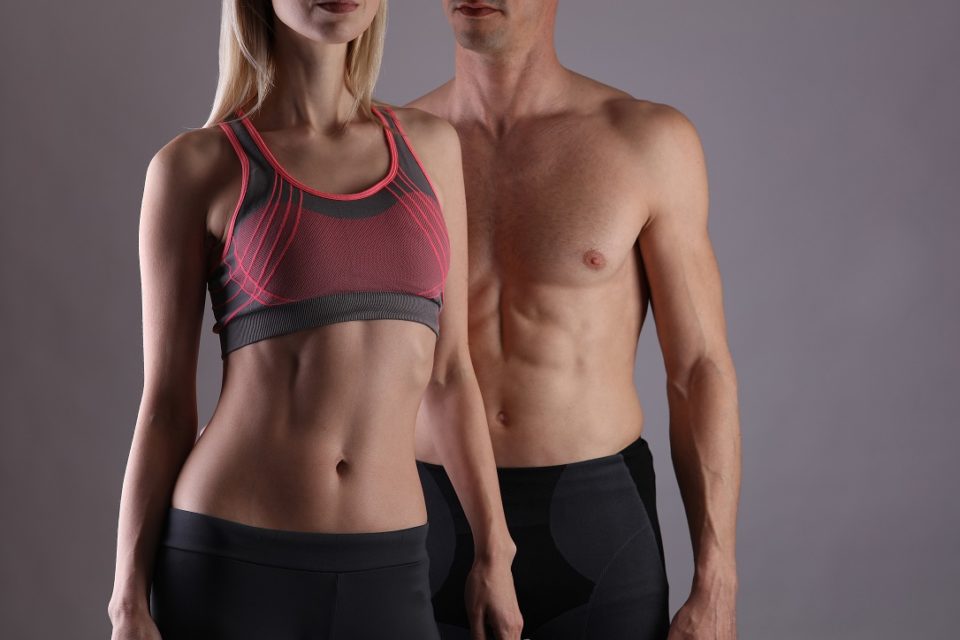 What To Expect During Your Treatment
Remove fat without surgery thanks to the FDA-approved process of freezing fat cells so they are naturally purged out by your body. During the treatment, you may feel a cold sensation on your skin for the first few minutes. After the treatment is complete (usually in 30 to 60 minutes per body part), you may notice some tightness or redness in the treated area that will go away in a few days and shouldn't prevent you from any of your normal activities.
You can resume your normal daily activities immediately following your treatment. There is absolutely zero downtime with CoolSculpting.
Melt away fat from any part of your body
Belly fat is one of the most commonly requested target areas for CoolSculpting®, but at Healthy Image, we often help clients combine treatments to target the stomach and other areas with pockets of fat. To learn about other nonsurgical options through CoolSculpting® at our spa, please call our salon at (413) 217-0521 or fill out the form below.
At Healthy Image, we offer private appointments so no one has to know your secret to a flawless waistline! Unlike many places, you don't have to sit in a packed waiting room until your appointment. We believe our patients should have privacy when it comes to their cosmetic treatments. We are the most experienced CoolSculpting provider in Berkshire County, MA. And we have patients who travel over an hour to see our team because of the amazing results we get with CoolSculpting treatment.
0% Interest-Free Financing Available for CoolSculpting
Advance Care Finance Services can take up to two weeks for approval so please plan your appointments accordingly.

CLICK ON THE LOGO TO APPLY
Can take up to 2 weeks to receive the Advance Care card
Brilliant Distinctions Participating Practice
Join over 3 million Brilliant Distinctions Members today!
Wouldn't it be nice to recieve extra rewards for investing in the enhancement of your physical appearance? Now you can!
Earn. Redeem. Save.
Brilliant distinctions rewards its members with savings for receiving treatments and purchasing participating portfolio products. As a Brilliant Distinctions member you can redeem your reward points for savings on future treatments and product purchases.  Instantly start earning points after joining with every participating treatment or product purchase. Earn 200 points for every Botox, Juvederm and CoolSculpting treatment.

Request an Appointment
Request your free CoolSculpting® consultation:
Start Your Transformation